Whilst Floating Flooring encompasses a diverse range of product types, each with their own individual tolerances and installation methodology and requirements, some general rules can be drawn that apply to most of them. The following information should be viewed as exactly that… general information and specific advice should be sought from manufacturers, installers and experienced professionals, for individual situations.
ABOUT FLOATING FLOORS
Bamboo, engineered timber veneer and laminate flooring are 'Floating' floor coverings; they are designed to move in sympathy with the building structure as it reacts to variations in temperature and humidity, and as such their ability to move must not be impeded in any way. They should not be glued, nailed or fixed to the substrate in any manner.
All timber flooring will absorb and give up moisture until it reaches equilibrium with its environment. This process is ongoing and continual, and as such industry and manufacturer requirements state that it is the home owner's responsibility to ensure that internal relative humidity levels within the house are maintained at or below 65%; this ensures that the boards are not subjected to conditions that are outside of their design tolerances.
In humid climates, this can sometimes be aided through the installation of dehumidifier units or by running air conditioning units for a period of time each day, over the hotter and more humid months. Adopting cleaning methods that minimize the amount of water and the frequency, with which it comes in contact with the flooring, are also important additional steps in this process. In dryer climates or at times of drought, an opposite strategy may be required.
INHERENT NATURAL VARIATION
Bamboo and Engineered Timber Veneer flooring is manufactured from natural materials; it can and will vary in colour, texture and naturally occurring features from board to board and batch to batch; this is to be expected in all natural flooring products and is beyond our control.
In the case of Engineered Timber Veneer flooring, the product may be supplied as a mixture of A, B, C, and D grade boards. This grading refers to the amount of natural feature present, such as knots, gum lines, borer lines, split and filling.
These are all naturally occurring characteristics of timber flooring and are considered highly desirable features that give the floor its rustic charm and appeal. These types of variation do not provide grounds for product replacement and any concerns must be raised prior to installation.
When making your selection from a display sample it is important to be aware that the sample is intended to be indicative only, and that the material you actually receive may vary significantly from that sample.
If there is any uncertainty about the final overall appearance of your selected timber or bamboo flooring, we recommend asking to view a larger sample or photos of completed projects that utilise the product chosen.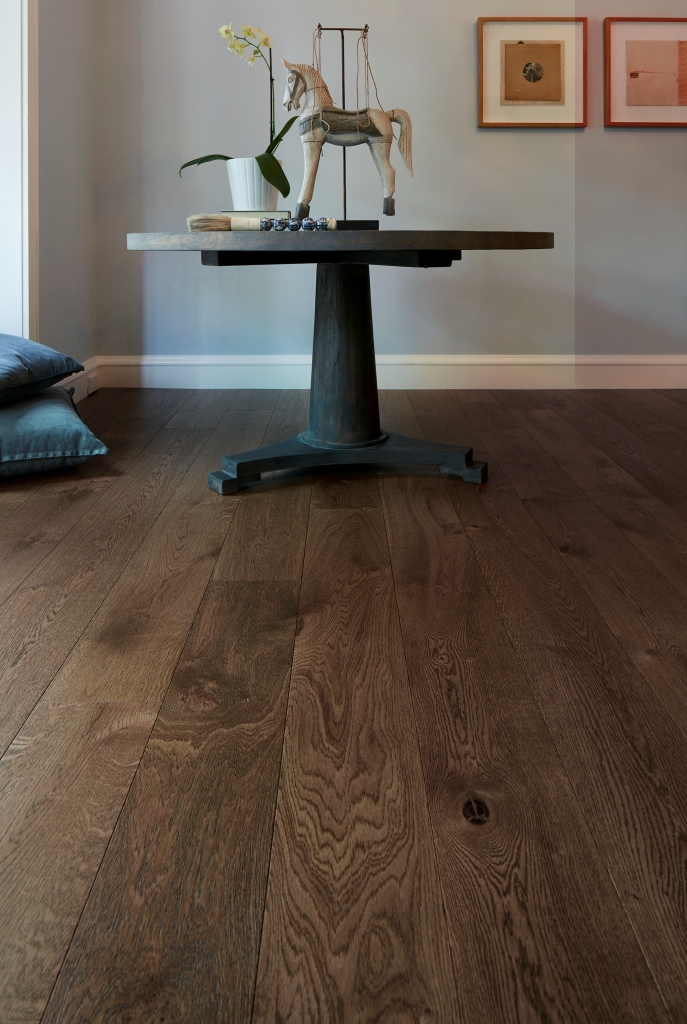 EXPANSION AND CONTRACTION
Being essentially timber, bamboo, engineered timber and even laminate flooring solutions, need to employ installation systems that will accommodate the expected degree of expansion and contraction that the specific flooring type is likely to experience. This is normally achieved through providing adequate perimeter and intermediate expansion gaps. As timber flooring products expand more across the width of the board compared to the length of the board, intermediate expansion joints are generally required where room sizes exceed six (6) meters in width and eight to ten (8 -10) meters in length, dependent on the type of flooring product being used. This is a requirement of the manufacturer and must be adhered to in order to maintain product warranty.
The general 'rule-of-thumb' is that a board will expand up to 1.5mm per 1m width of flooring; this is largely the reasoning that determines the above expansion criteria, and also dictates that 10-12mm is generally the minimum width required for an expansion gap to be effective.
PERIMETER EXPANSION AND CONTRACTION
There are a number of steps that can be taken to achieve the desired provision for perimeter expansion and contraction:
The wall sheeting can be raised sufficiently prior to installation, allowing an expansion provision under the wall sheet and back to the timber bottom plate, of the stud wall.
If that is not possible then the wall sheeting can be undercut instead, using a specialised undercut saw.
Door Jambs and other fixtures in direct contact with the flooring, will also need to be undercut to provide for expansion and contraction
Alternatively an 18 -19mm thick timber skirting board can be provided to achieve the same effect.
Lastly a 19mm wide Scotia trim can be attached to the existing timber skirting boards to provide the minimum necessary provision for expansion and contraction. – This is a popular solution in existing homes, where the client prefers not to remove the existing skirting boards and uncut the wall sheeting, however it is generally not as aesthetically pleasing.
INTERMEDIATE EXPANSION AND CONTRACTION
Intermediate expansion trims are required to divide the floor area into separate zones that can expand and contract independently of each other.
Generally, intermediate expansion joints are required where room sizes exceed eight (8) meters in length and six (6) meters in width; again this is a requirement of the manufacturer's, and is designed to accommodate expected expansion and contraction in the chosen flooring system.
If proceeding with Bamboo, Engineered Timber or Laminate flooring options; we recommend that you discuss with your kitchen cabinet maker, the possibility of installing a secondary or false kick board around the kitchen cupboards to allow for an appropriate expansion joint. – Once the flooring has been installed, the finished kickboard can then be positioned over it; this provides a more seamless and attractive finish than employing Scotia trims to achieve the same end.
Waterfall bench ends, island benches, and any other cabinetry, must not be installed on top of the flooring or fixed to the flooring in any manner (Including Silicone), as this will impede the floors ability to move and void any manufacturer's warranty.
INTERMEDIATE EXPANSION TRIM

PERIMETER EXPANSION TRIM

SCOTIA TRIM
IMPLICATIONS OF RAISING THE EXISTING FLOOR LEVEL
One aspect often overlooked when considering the installation of a floating floor, particularly in existing homes, is the effect it may have on existing door clearances, and the clearances for under-bench dishwashers and the like. – Obviously these must be sufficient to accommodate the newly selected floor covering.
For example: bamboo flooring is often up to 14mm thick and once combined with an underlay system, typically raises the existing floor level by around 16mm! This means that doors may need to be cut down in height and that your dishwasher may no longer fit back under the kitchen bench, unless pre-emptive measures are taken to accommodate this!
THE ROLE OF UNDERLAY IN FLOATING FLOOR SYSTEMS
A high quality 2mm thick acoustic foam underlay and moisture/vapour barrier must be used as it is an integral part of any floating floor system.
The underlay not only decouples the flooring material from the substrate, allowing it to 'float' or move independently, it also provides an acoustic benefit in reducing the noise associated with walking on a floating floor.
Perhaps the most important function of the underlay is to provide a moisture barrier between the substrate and the flooring material. For this barrier to be effective the underlay must be installed in accordance with the manufacturer's directions.
Generally underlay sheets should be overlap by 100 – 120mm and the joints sealed with a water resistant duct tape. The underlay/moisture barrier should be returned up the walls behind the skirting boards to a height that is at least equal to the finished floor level.
Make certain that the underlay used includes a plastic moisture barrier membrane – if it does not, then a 200um plastic sheet will need to be installed additionally and prior to the installation of the underlay and as per the instructions above!BEFORE INSTALLATION
A site evaluation should be undertaken prior to installing a floating floor, to determine likely issues, especially with regard to moisture and the associated measures required to accommodate the likely degree of expansion/contraction.
The substrate and the boards themselves should be tested using commercially available moisture meters to determine if they are suitable for installation and appropriate action taken immediately if a potential problem is identified.
The Sub-floor/Substrate must be level, dry and free of imperfections.
Whilst tolerances can vary slightly by product type and manufacturer, generally sub-floors need to be sufficiently flat to accept the flooring system with a deviation tolerance of +/- 3mm over a 3m radius.
Any fresh levelling compound employed to bring the substrate within this tolerance, must be completely dry prior to the installation of any underlay and floating floor product.
An uneven sub-floor may lead to movement of the flooring underfoot and within the boards joining system, resulting in excessive noise, and joint "crackling" or "creaking". This is a common indication of an uneven substrate.
As relative humidity varies in different parts of Australia, acclimation of the boards prior to installation is the most important precaution to take in order to insure a successful installation.
Proper acclimation is necessary to adapt the moisture content of the flooring to the conditions of your environment. Improper acclimation could cause the floor to excessively expand and/or shrink after installation.
It is recommended to acclimatise the flooring for a minimum of 48 hours in the unopened packaging at a normal ambient temperature 18-25°C, and a relative atmospheric humidity of 50-70%.
LIMITATIONS
Whilst floating flooring can be installed successfully by the D.I.Y. installer, we highly recommend employing an experienced professional installer, for premium results.
Floating flooring is designed for internal use only, it cannot be used externally or in below ground applications.
Bamboo, Timber and Laminate floating floors should never be installed in dedicated wet areas such as bathrooms and laundries.
Over wetting a floor when mopping or cleaning can change the moisture balance in the floor and cause the floor boards to expand, resulting in cupping. For this reason, it is important to ensure that mops and cloths are well wrung so that as little water solution as possible wets the floor.
NEVER USE STEAM MOPS to clean your floating timber floor!
Surface finishes can be scratched by grit walked onto the floor, the movement of furniture, or by the unclipped nails of indoor pets running through the house.
It is therefore recommended that you place quality door mats at outdoor entrances to prevent dirt and sand from damaging the surface; use protective pads on the legs of chairs and tables; and ensure that the nails of any indoor pets are kept clipped at all times. You should clean the floor regularly to minimise grit and dirt. For daily cleaning, vacuum using a soft bristle head, soft bristle broom or by using a quality anti-static or micro-fibre mop as per the manufacturer's recommendations.
Shield you floor from direct sunlight and excessive heat by using blinds and curtains as fading, checking and warping caused by direct sunlight are not covered by the manufacturers' warranty.