Laminate flooring offers superior abrasion, scratch and impact resistance as well as colourfast (Anti fade) and anti static properties, making it an excellent choice for both domestic and commercial applications
Laminate flooring is an affordable alternative to engineered timber and hardwood flooring, offering unbeatable value and performance. It is a low maintenance and easy-care flooring solution, as there is no need to wax, polish or sand it, as it will remaining looking like the day you installed it for many years to come.
Modern laminate flooring utilizes the latest digital photographic technology to produce the look and feel of a genuine hardwood floor. Available in authentic representations of Oak, Australian and exotic timber species, your laminate flooring will enrich your home with the timeless beauty of a timber floor.
If you are looking for an affordable, versatile floor covering, that requires little maintenance and is very tough, then a laminate floor could be the perfect solution for you flooring needs.
Call the Northern Rivers laminate flooring experts today or visit our Alstonville showroom to view our extensive range of beautiful laminate flooring.
---

Oakleaf HD PLUS 48 Hour Water Resistant Laminate
Click profile for floating install
OAKLEAF HD PLUS laminate flooring delivers amazing realism with décor visuals so natural you would think you were looking at a real natural timber plank. Using the latest digital imaging technology, a stunning range has been created that showcases popular Australian Timber species along with Oak & Hickory décors. Featuring a moisture protected treatment for the micro bevel edges along with an amazing 30 pattern repeats, these planks deliver all the natural charm & character you would expect from a natural timber floor. OAKELAF HD PLUS also features a 48hr independently tested Water-Resistant core providing ultimate peace of mind for when little accidents occur.

OAKLEAF HD PLUS laminate is AC4 rated, making it tough enough for everyday living and ideally suited for the wear and tear associated with modern family environments. OAKLEAF HD PLUS laminate is dimensionally stable, exceptionally durable and offers great visual appeal for residential décors, and commercial fit-out.
All colours available in: 2200 x 196 x 12mm, 1.725m2 / Ctn, AC4
*Selected colours also available in: 1215 x 195 x 8mm, 1.8954m2 / Ctn, AC4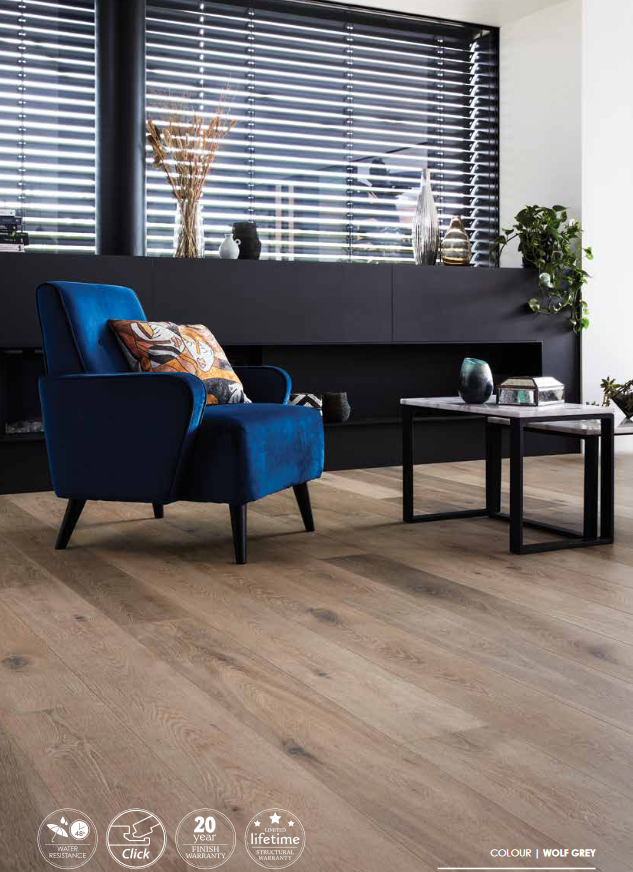 ---

AQUASTOP is produced by the Swiss Krono Group, one of the World's largest and most respected laminate manufacturers. AQUASTOP is an innovative laminate technology that delivers a unique set of qualities that is engineered to inhibit moisture ingress from topical liquid spills, water and pet accidents.
AQUASTOP is now available in an 8mm, 12mm, and 14mm thick ranges, which allow moisture exposure for up to 48 hours, and in an 14mm thick range, which will allow moisture exposure for up to 72 hours.
With a patented Valinge 5G click system for easy installation and AC4 & AC5 superior abrasion, scratch & impact resistance, AQUASTOP is a smart choice!
INSTALLATION INSTRUCTIONS 8mm & 14mm
INSTALLATION INSTRUCTIONS 12mm
---