Workplace Health and Safety laws provide protection for workers, so they are not injured performing deliveries.
All Alstonville Tiles & Floorcoverings staff including delivery workers, have the right and are empowered to refuse the delivery of goods, if they believe it puts themselves or others at risk of injury.
In the event that the site access is deemed to be unsafe, the client will be contacted and the materials either returned to Alstonville Tiles & Floorcoverings warehouse, or left safely at the curb side, closest to the entry point of the property, but only when we deem that it is safe and practicable to do so. – If a second visit is required to the site to affect the delivery, the client will be charged a second delivery fee.
Businesses, building companies, contractors, and members of the public, all have a legal responsibility to ensure that their work sites and premises are safe for workers to access in performance of their duties. – The penalties for failing to do so can be severe.
The following conditions of delivery apply:
DELIVERY IS ONLY PROVIDED TO THE GROUND FLOOR AND FRONT OF THE PREMISES.
MATERIALS WILL BE PLACED INTO A GARAGE OR SINGLE INTERNAL GROUND FLOOR ROOM ONLY.
ANY REQUIREMENTS BEYOND THIS, MUST BE EXPRESSED PRIOR TO DELIVERY AND AGREEMENT REACHED WITH THE MANAGEMENT AND DELIVERY PERSONNEL, AS TO THE PRACTICALITY AND COST OF ANY SUCH REQUEST. – THIS WILL BE EVALUATED ON AN INDIVIDUAL BASIS.
THE DELIVERY OF GOODS TO SITE IS NOT AN OBLIGATION OF THE TRANSACTION FOR THE SALE OF GOODS, IT IS PROVIDED AS AN EXTRA SERVICE; IT IS NOT A CONSUMER RIGHT.
ALSTONVILLE TILES & FLOORCOVERINGS MAY REFUSE TO AFFECT THE DELIVERY OF MATERIALS FOR ANY REASON WE DEEM APPROPRIATE OR NECESSARY, REGARDLESS OF THE CUSTOMERS INDIVIDUAL NEEDS OR THE PROJECT'S TIME CONSTRAINTS.
ALSTONVILLE TILES & FLOORCOVERINGS WILL NOT BE HELD RESPONSIBLE FOR ANY CUSTOMER OR THIRD-PARTY COSTS OR HARDSHIP, ARISING AS A RESULT OF OUR FAILURE TO PERFORM THE DELIVERY OF MATERIALS, FOR ANY REASON OR AT ANY TIME.
CUSTOMERS ARE NOT TO ATTEMPT TO ASSIST IN THE DELIVERY OF THEIR GOODS, AS THEY ARE NOT COVERED BY OUR INSURANCE IF THEY ARE INJURED IN THE PROCESS.
HOW YOU CAN HELP
Prior knowledge of site hazards and restrictions can protect property and goods from accidental damage and keep delivery workers and members of the public safe.
Describe the delivery route to us, walk it yourself, identify any potential hazards along the route, and advise us beforehand of any potential obstacles affecting ingress or egress to the property. E.g., Steep gravel driveway, uneven surface etc.
Identify obstacles that cannot be moved that may impede the delivery process.
Ensure that your driveway (Access) is capable of accommodating our delivery vehicle and advise us immediately if it is not.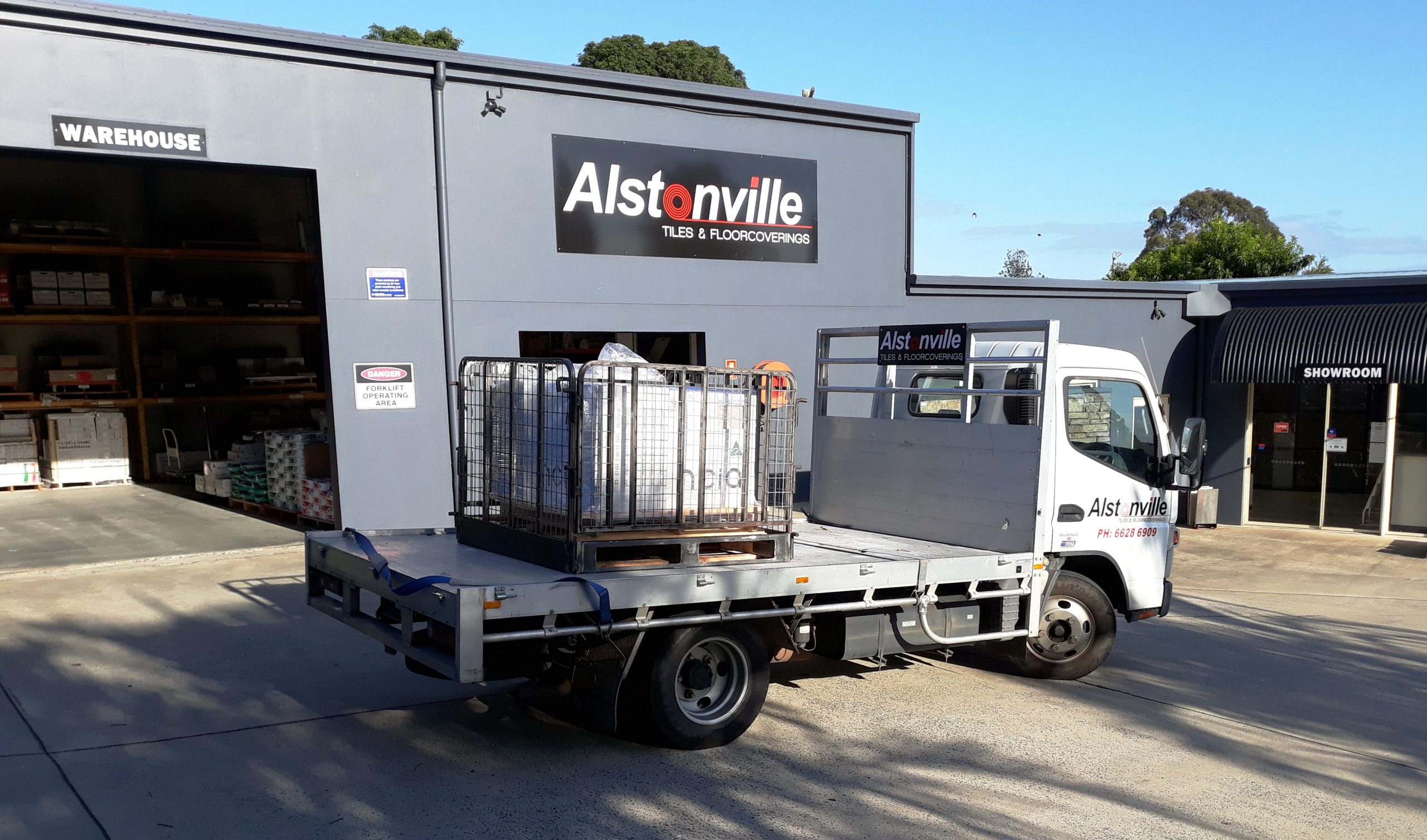 For your information, our delivery vehicle's critical dimensions are as follows:
Length Overall 4.985m.
Height Overall 2.110m.
Width Overall 1.865m.
Turning Circle (kerb to kerb ) 9.8m.
GVM 4,983kg.
Ensure that your own vehicles are not parked in such a way that they impede access for our delivery vehicle.
Advise if body corporate delivery procedures must be met. E.g., time and lift restrictions, use of trolleys.
One of the biggest risks to delivery workers is 'slips and trips,' especially on steps or stairs which should be avoided, remove any debris, building materials, obstacles, mats, or furniture, along the delivery route which could cause a trip or slip hazard.
Ensure pets are securely restrained – Especially dogs! – If your dog is unrestrained and appears aggressive, the delivery will not take place and the goods will be returned to Alstonville Tiles & Floorcoverings warehouse.
Keeping in mind the above requirements, prepare a secure location, out of the weather, for your goods to be deposited, and advise us of this location or mark the site clearly for our delivery personnel's benefit.
Materials such as vinyl plank, hybrid vinyl plank, and engineered timber flooring, must be stored inside the premises in order to avoid damage caused by moisture and to acclimatise (Reach Equilibrium) to the internal temperature and relative humidity conditions present. These types of products typically need to be delivered a minimum of 24 – 48 hours prior their installation. They should not be subjected to direct sunlight either. Please keep these requirements in mind when requesting and scheduling a delivery of these products.