MAINTENANCE GUIDE FOR FLOATING FLOORS

THESE GUIDELINES APPLY TO ANY TIMBER FLOOR. FOLLOWING THEM WILL HELP KEEP YOUR FLOOR LOOKING GREAT FOR MANY YEARS TO COME.
DO NOT ever wet mop your timber floor – Lightly mist an area of the floor with a proprietary timber cleaning solution and wipe over with only a damp, high quality Micro Fibre Mop.
DO NOT USE STEAM MOPS to clean your floor
DO NOT USE: Ammonia-based cleaners, wax-based products (Unless coating is oil or wax), detergents, bleach, polishes, abrasive cleaning soaps, steel wool or abrasive cloths, turps or kerosene
DO NOT wear shoes with stiletto heels on timber floors. Remove shoes at the door to avoid potentially walking in sharp or abrasive materials in your shoe treads
Anti-static mop, sweep and or vacuum (Soft Head) the floor as often as possible
Wipe up all spills immediately. Many beverages will stain most finishes if left on the floor.
Only use cleaners that are recommended by the timber floor coating manufacturer or flooring manufacturer
Use walk-off and walk-on mats and rugs at all door thresholds. (Keep door mats clean)
Place floor protectors on the bottom of all furniture and anything else hard that makes contact with the flooring and which may rub or scratch the surface coating. (Get into the habit of lifting not sliding chairs in and out)
Keep pets nails trimmed. Note: Dogs running through a house will scratch any finish on your timber flooring
Consider using carpet runners/area rugs in high traffic areas of the home.
Protect your floor from direct sunlight. Prolonged exposure to sunlight can accelerate the oxidization of both timber and timber coating. The use of blinds and curtains is recommended
If possible rearrange rugs and furniture periodically to allow the flooring to age evenly
You must insure that you protect against extremes of humidity and temperature within your home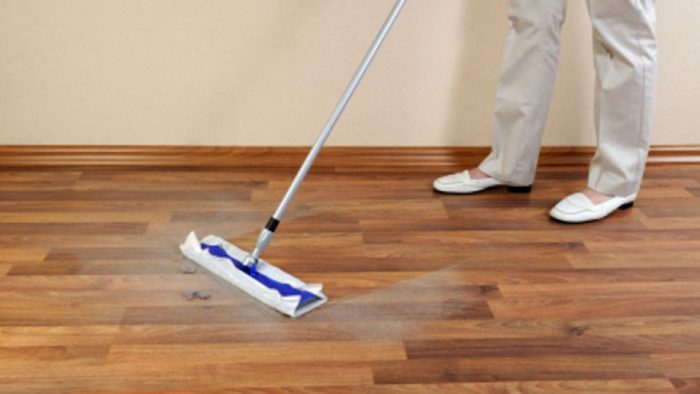 A bamboo or timber floor will look better for longer if it is kept as clean as possible.
A bamboo or hardwood timber floor is a significant investment, and the key to maintaining your floor is the cleaning. Your bamboo or hardwood timber floors will endure the test of time, if you provide them with the care they need.
Although bamboo and hardwood timber floors are generally considered easy to maintain, using the wrong products and techniques can put the finish and longevity of your floor at risk.
You can expect years of service and enduring beauty from your floating timber floor, by observing the precautions above and by employing regular cleaning and maintenance routines.